Flabeliina goddardi with egg case
A US scientist has discovered a new species of sea slug in a Californian state park.
Jeff Goddard of
University College Santa Barbara
found the new species at Carpinteria Reef. It is a species of nudibranch - a group of brightly coloured sea slugs.
After observing the creature back in the lab for a few days he had it identified by a leading authority on the taxonomy of sea slugs, Terrence Gosliner who confirmed it was a new species and named it after it's discoverer.
Flabeliina goddardi
was fully described in the September 15th edition of the
Proceedings of the California Academy of Sciences
.
Goddard said: "
it was pretty exciting to find a new species right under our noses...Only one specimen was found, so now we need to find out where more are hiding, what they feed on, and whom they interact with.
" The creature measures about 3 cm long when stretched out and crawling.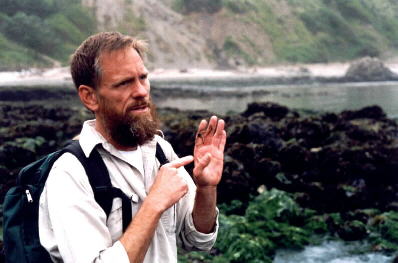 Jeff Goddard
In the published article, Goslinger writes: "
Flabellina goddardi is named for friend and colleague Jeff Goddard who found the only specimen of this distinctive species. Jeff is the consummate naturalist with superb powers of observation.
"